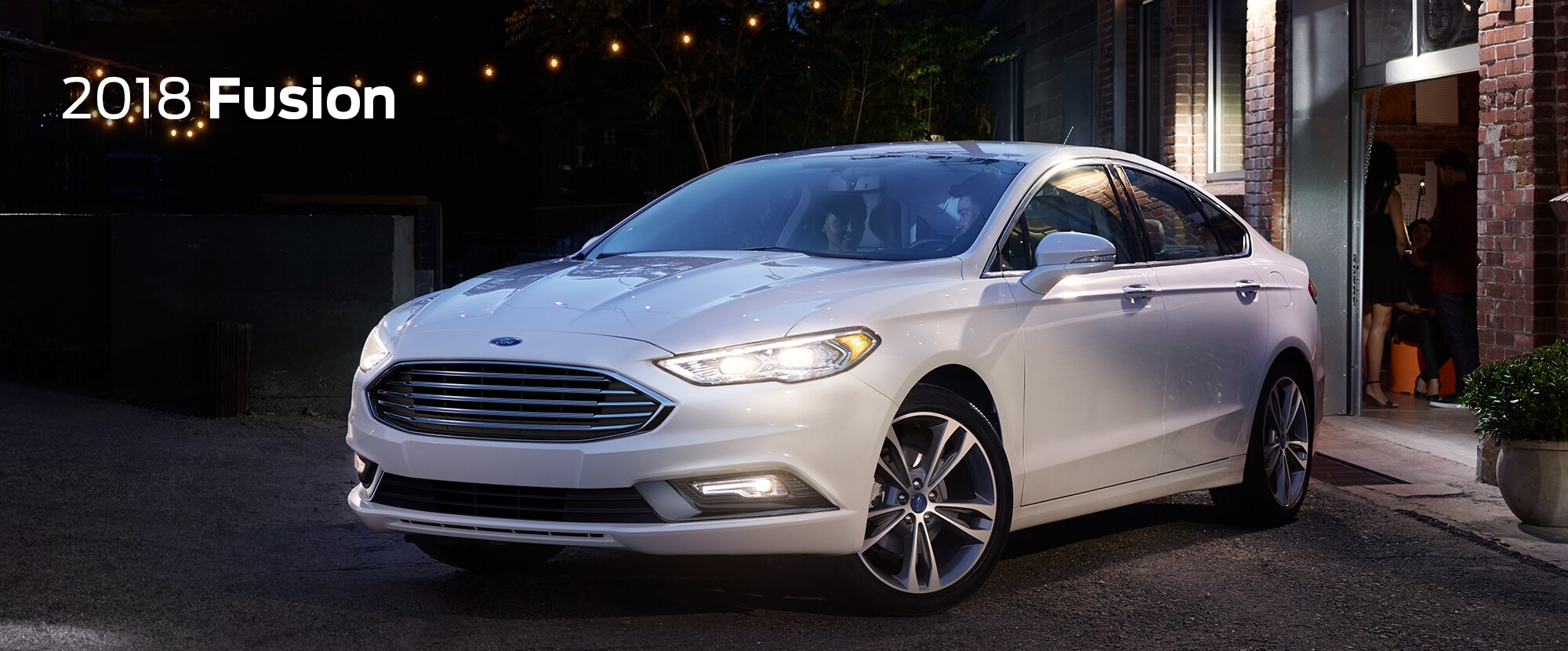 The 2018 Ford Fusion is available from your Carthage Ford dealer, Cooper Ford. If you are searching for a 2018 Ford Fusion in Carthage, our staff can help you get behind the wheel of a new Fusion at a price that you and your family can afford. The 2018 Fusion is available for purchase in a variety of trim levels that are available at Cooper Ford. Do you want to test drive the Hybrid SE, Titanium, Hybrid Titanium, Energi SE, Energi Titanium, S, SE, Hybrid S, Sport, Platinum, Hybrid Platinum, or the Energi Platinum version of the 2018 Fusion? Each of these trim levels allows the driver something different when you're discussing performance and features. The 2018 Fusion has great features such as the unique rotary shift gear dial that lets the cupholders occupy a better spot. If this peaks your interest, then know that we have a 2018 Ford Fusion in Carthage for you at your Carthage Ford dealer, Cooper Ford.

If you examine the engine of the 2018 Ford Fusion S, you'll find that it is a 2.5L Duratec® engine paired with a 6-speed automatic transmission. This engine brings you a fuel economy of 32 MPG when you're on the highway and 21 MPG while you're in the city. If you are shopping around for an engine with some more power, then you should probably consider the 2018 Ford Fusion Sport trim level. Under the hood of the Fusion Sport, you will see a 2.7L V6 EcoBoost® engine that boasts 325 horsepower in addition to 380 lb.-ft. of torque.
If you are seeking a more economic vehicle, then you should test drive a Fusion equipped with a 2.0L Atkinson-cycle Hybrid Engine, which allows the driver 42 MPG combined and 188 horsepower for the system. Every engine that is available across the entire line of 2018 Fusion models holds an advantage all its own, depending on what you need out of your 2018 Ford Fusion in Carthage. As you can tell, performance is never put in jeopardy in the name of efficiency because they are both key in the 2018 Ford Fusion.

You can count on a collection of features to bring you a stellar driving experience that everyone desires out of their car. The pre-collision assist system with pedestrian detection uses sensors to identify possible collisions. When a crash is imminent, a warning signal shines on the windshield while an alert sounds to grab your attention. If a collision can't be avoided, then the brakes will charge up and sharpen their sensitivity to bring you better responsiveness while you're braking. The FordPass tech is an app that allows you control over your 2018 Fusion. Find and hold a parking spot, analyze fuel prices to save your dollars, and you can schedule service at your Carthage Ford dealer. You can remotely lock, unlock, and start your Fusion's engine via this app. Come into your Carthage Ford dealer, Cooper Ford, today and test drive that 2018 Ford Fusion in Carthage that you need.
Hours
Monday

8:00am - 6:00pm

Tuesday

8:00am - 6:00pm

Wednesday

8:00am - 6:00pm

Thursday

8:00am - 6:00pm

Friday

8:00am - 6:00pm

Saturday

8:00am - 5:00pm

Sunday

Closed
Make an Inquiry