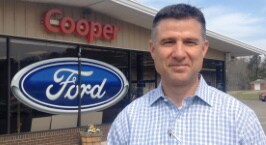 To all of our many loyal Cooper Ford customers,

What a crazy time it has been here in Moore County?  Like you, I've been trying to keep up with all of the latest developments regarding the COVID-19 pandemic.  From the latest statistics being released, to the updates from our state and national leaders.  It has changed all of our lives so dramatically in such a short period of time.

Since opening Cooper Ford in September of 2016 we have worked hard to do 2 things: be a reliable, trustworthy car dealership that always takes care of its customers, and always strive to give back to the community that gives us such wonderful support.

It's with those 2 goals in mind that we want to let you know some of the things that we are doing during the Stay at Home order.

We will remain open our regular hours to serve you.  Car dealerships and car repair facilities are deemed "Essential" so not only are we are allowed to keep our crew working, we can also be here every day to serve your needs
We are going above and beyond to keep our facilities safe for our staff.  We are sanitizing our shop and work areas frequently and are very careful to clean all vehicles before and after any test drive or service work.
If your vehicle needs service but you are unable or unwilling to come to the dealership we are willing to come to you.  If you call to set up an appointment we'll come pick-up up your vehicle and return it when the work is finished.
If you would like to test drive one of the vehicles you find online at CooperFord.net we'll bring it to your home.  We'll sanitize the car and keys and let you take it for a spin in your neighborhood.

We are so very happy to announce that Ford has agreed to help our customers too.  During this very uncertain time, Ford is offering 2 options for making the purchase of a new vehicle more affordable.  On most new 2019 vehicles you can choose 6 months of deferred payments or get 0% APR for up to 84 months. These are unprecedented offers to go along with the unprecedented times we are living in.

Please know that if you have any questions you can call Cooper Ford at 866-959-8528 to get quick answers.  We are here and ready to help.

From the entire staff here at Cooper Ford in Carthage we are praying for you to stay safe and remain healthy until this is all over.  We encourage you to call if we can help you in any way. 

We are so blessed to be a part of such a wonderful community. We will get through this…together. 

Aaron Cooper